GLAUCOMA
Glaucoma is a group of eye by damage to the optic nerve. Experts estimate that half of the people affected by diseases that gradually cause the decrease in eyesight without warning. Vision loss is caused glaucoma may not know they have it. Although IOP (intraocular pressure) is clearly a risk factor of optic nerve damage, other factors must also be involved because even people with "normal" levels of pressure can experience vision loss from glaucoma.
There is no cure for primary open angle glaucoma—yet. However, medication or surgery can slow or prevent further vision loss. The appropriate treatment depends upon the type of glaucoma among other factors. Early detection is vital to stopping the progress of the disease.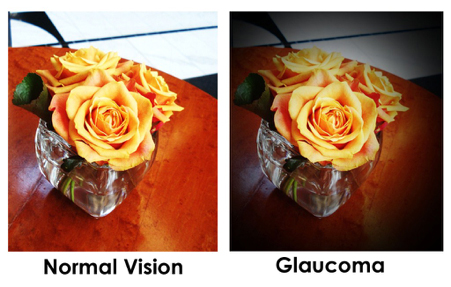 Types of glaucoma
Open Angle Glaucoma (OAG): Open angle glaucoma is the most common type of glaucoma. This type of glaucoma is usually chronic. It is divided into high IOP and normal IOP.
Narrow Angle Glaucoma:

chronic narrow angle glaucoma: Patients do not typically experience pain and they often seek medical help when vision in severely decreased.
Acute narrow angle glaucoma: this type of glaucoma is seen in patients with a narrow anterior chamber angle, which is the space between the iris and cornea where aqueous drainage occurs. Prevalent among Asians. Patients will report eye pain, headaches, vomiting, and sudden decrease in vision. Average age is 40 years old or older. If left untreated, blindness will occur within a week.
Are You at Risk For Glaucoma?
Everyone is at risk for glaucoma. However, certain groups are at higher risk than others
People age over 60 are six times more likely to get glaucoma.
Family members with glaucoma increases risk of glaucoma four to nine times.
Asian People of Asian descent appear to be at some risk for angle closure glaucoma.
Steroid Users. 40% increase in the incidence of ocular hypertension and open angle glaucoma in adults who require approximately 14 to 35 puffs of steroid inhaler to control severe asthma.
History of eye injury. It is important to have your eyes examined regularly. Anyone with high risk factors, should be tested every year or two after age 35.